Go Back
Excellence Celebrated at Senior Prize Giving Ceremony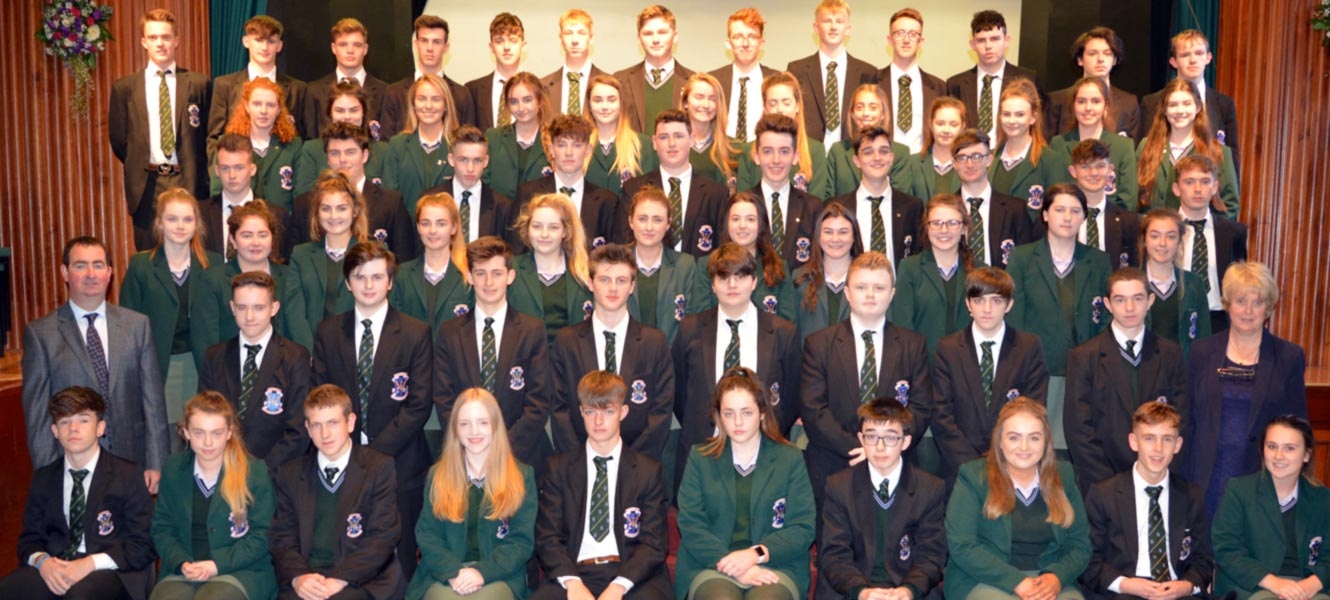 ---
As pupils, parents and teachers assembled at St. Louis Grammar School, Kilkeel, for the annual Senior Prize Giving ceremony, the atmosphere was full of joy as, once again, there was a feeling that was a lot of successes to celebrate. Sr Mary O'Connor (SSL) opened the proceedings paying tribute to the continued role in education played by St. Louis in the Mourne area.
St. Louis Principal, Mr Kevin Martin emphasised the importance of celebrating the school's achievements, "Prize Giving is a very special and significant event in the school calendar as it allows us to reflect on the past year, and celebrate the success and achievements of our students".
Mr Martin highlighted the excellent performances of the students in the recent examinations. "At GCSE Level, the pass rate is once again very high as 30% of grades were either A*/A grades and over 60% of grades achieved being A*-B, St. Louis students performed with great distinction with 13 students attaining 8 or more A*-A. The GCSE class of 2017 have much to be proud of".
Mr Martin then praised the Sixth Form students on continuing the proud tradition of excellence in A Level examinations, "At A2 level, the percentage A*- C grades remain high at 90% with a third of all grades were A* or A and 67% were A*-B. 17 departments had 100% A*-C pass rate at A2 level".
During 2017 St. Louis received an excellent report from the ETI especially in English and Careers. Mr Martin was delighted with the ETI 's conclusion in that St. Louis "is identifying and bringing about the necessary improvements in the quality of education."
Speaking on other successes and events throughout the year, Mr Martin emphasized the hard work put in by students and teachers, whilst commending the support of parents and guardians.
Mr Martin spoke with pride when he pointed out the diversity of university courses the class of 2017 had attained. "Whilst many are ready to commence their university studies on courses at Queens and UUJ, many have travelled further afield. Our students are to be found all around the UK in courses ranging from Mathematics, Physics & Astro Physics at Glasgow; Radiotherapy, Occupational Therapy, Computer Security, Early Childhood Education and Sport and Exercise Science in Liverpool, Transport Design in Staffordshire, Technology and Design in Bangor and Law at De Montfort."
Mr Martin reflected on student's attainments beyond the classroom in specialist competitions and sport. "Students at St. Louis can be proud to have attained many prestigious awards that are a great source of pride to themselves, their families and the school. In our ranks, we can be proud to claim recipients of awards such as the JP McManus Bursary, a Lloyds Scholarships, an Aston Martin scholarship, Arkwright Engineering Scholarships and Nuffield Foundation Scholarships".
Mr Martin paid tribute to the regional and national titles that came to rest at St. Louis in a variety of disciplines. "As the St. Louis Debating team secured an All-Ireland title the Ladies Gaelic footballers captured the school's first Ulster title in this Sport. The Year 11 boys captured another O'Hara Cup, whilst the Year 8 'Camogs' secured a Down school's title". He then congratulated Sorcha McCartan on attaining two Colleges All-Stars awards in Ladies Gaelic football and Camogie.
Guest speaker at the ceremony was Mr Hugh Morgan Operations Director Blue Clarity Design Services and a past pupil of St. Louis. Mr Morgan congratulated the students on their great successes before reflecting on his own time spent at St. Louis. He acknowledged the role of his teachers, many who are still teaching at St. Louis, "you have a passion for this place, which hasn't faded".
Mr Morgan described his career path from St. Louis to Blue Clarity, which now employs 60 staff working all over the UK, for clients like Arqiva and Virgin Media. Blue Clarity have contracts in the US and Canada. Within a few years, they have become the "go-to company" in this expanding market. Mr Morgan offered the students a sound lesson from his own experiences. "If I could ask you to take one thing away from my experience, it's that hard work and persistence will pay off. Anything you do, always try to do it to the best of your abilities, have confidence and believe in yourselves". The evenings celebrations concluded with an excellent array of traditional music from the St. Louis 'Trad' group.
Written by: News Editor
Go Back