Go Back
St. Louis Celebrate with Premiership Champions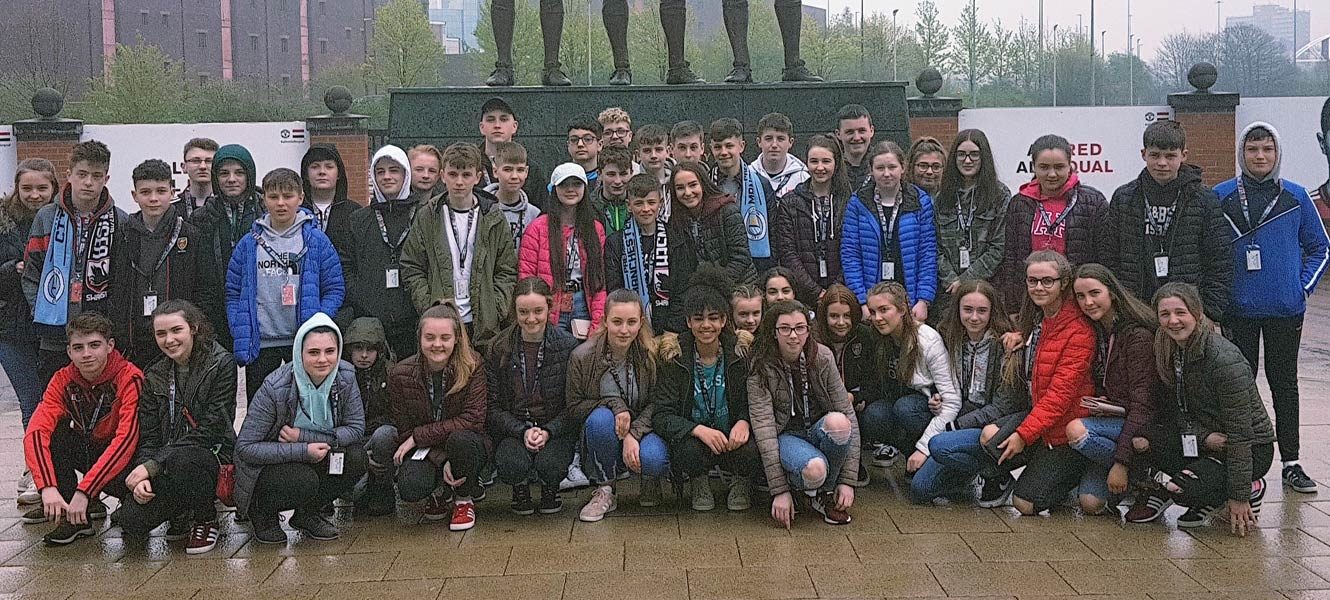 ---
Students from St. Louis Grammar School, Kilkeel have been travelling to Manchester on an annual basis for over twenty years. Many will still have fond memories of their 'Manchester trip'. In the past the visit incorporated many great occasions at Manchester United, but recent visits have involved the 'blue half' of Manchester as the St. Louis parties have attended games involving Manchester City.
This year's trip involved 47 students, accompanied by 5 teachers took place recently with the focal point being the Manchester City v Swansea City game at the Etihad stadium. Recent events in the Premiership worked out favourably for the St. Louis students as they got to experience a real party atmosphere as Manchester City were welcomed home as champions.
However, there is a lot more to this marvellous trip than just football. Bringing together students from different classes and different year groups at the school the trip creates an opportunity to generate new friendships. Gaining experience of looking after their own budgets on a trip which also involved shopping in 2 major retail parks (Cheshire Oaks and Trafford Centre), allowed the students to also develop essential life skills for the future.
Students enjoyed the Man City game which was ended a goal fest which Manchester City running out convincing winner with a 5-0 drubbing of their South Wales opponents. However, the Manchester United fans on the trip, may have had to endure the celebrations of the Sky Blues, yet they got some comfort as they were happy to visit Old Trafford (Theatre of Dreams), home of Manchester United, earlier in the morning. During this visit, students got to visit the 'United' dressing rooms, sitting in the technical area, as well walking down the player tunnel to a recording of 80,000 fans screaming. This was an experience that will stay in their young minds for a long time.
The St. Louis students also enjoyed table quizzes in their hotel in Wigan and bowling, along with 'bumper cars' in the Trafford Centre. Student also got to experience some Welsh culture on their journey home as the tour party made its annual pilgrimage to Llanfair¬pwllgwyngyll¬gogery-chwyrn¬drobwll¬llan¬tysilio¬gogo¬goch, the little Welsh village on the island of Anglesey, reputed to have the longest name for a settlement in the world.
The great memories of the 'Manchester 2018' tour by the St. Louis students will linger long in the minds of these students. As for the teachers, they are already planning 'Manchester 2019'.
Written by: News Editor
Go Back