Go Back
Preparation is Key for the Future - St. Louis Junior Prizegiving Ceremony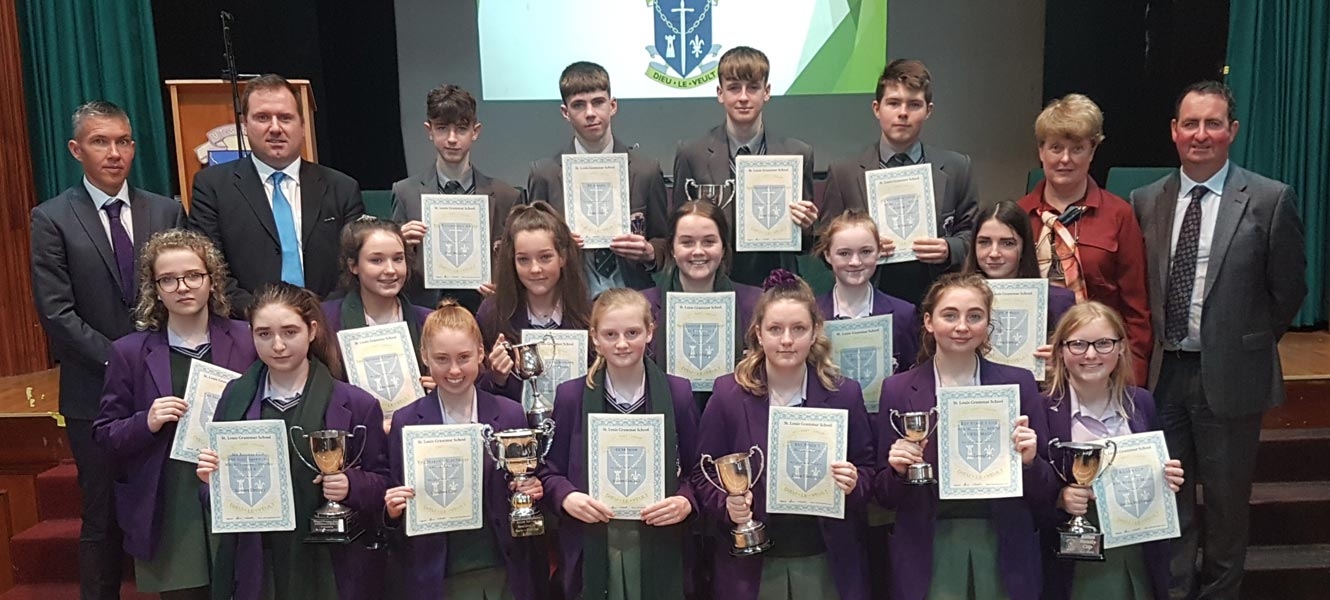 ---
The Junior Prize-giving ceremony at St. Louis Grammar School Kilkeel is always a magnificent occasion which allows teachers and students an opportunity to celebrate their performances at Key Stage 3. An important event in any school calendar, Junior Prize-giving is the launch pad for further successes at GCSE and A Level.
The celebrations may have a primary focus on academic achievement, but at St. Louis, other aspects of school life namely pastoral and extra-curricular achievements were also acknowledged. Head of Junior School and Pastoral Care at St. Louis, Mr Francis Loye welcomed students to the ceremony, "Junior Prize-giving is a pivotal event in our school calendar. It affords us a special time to celebrate the success and achievements of many of our young students in a variety of disciplines and activities". He continued "It is important to acknowledge the hard work and improvement of all our students in St. Louis. Our junior prize winners are wonderful examples of the many successful and diligent young students in this community."
Mr Martin highlighted to the students the immense sense of pride felt by teachers and parents over the achievements of the St. Louis students. "We are very proud of our success and the achievements of our pupils not only in their academic studies but in their extra-curricular activities". He continued by drawing the student's attention to the positive role played by those students who have moved on to further success. "If you go to the library you will see, in the Mourne Observer, a two-page spread of some of the students from St Louis who have graduated this year from University, many of them with 1st Class Honour's degrees and other achievements."
However, Mr Martin also reflected that extra-curricular activities are also essential to life at St. Louis. "Many of you may also have success in extra-curricular activities such as sport, music, and drama. Your efforts and your teachers' efforts and involvement in these activities are a very important and a valuable contribution to school life." He continued "Therefore, it is equally important to recognise these successes today as well as the academic successes."
Mr Martin then introduced the Guest Speaker, past student Mr Daniel Curran, who excelled not only academically, but thrived on the St. Louis stage in school productions such as 'Jesus Christ Superstar' and 'My Fair Lady'. Along with fellow St. Louis student, Mark Collins, Mr Curran even co-wrote their own musical 'Temptation', performed on our school stage. Mr Curran studied Law at Queen's before joining his family Law form Michael F Curran Solicitors in Newcastle.
Mr Curran, now a member of the St. Louis Board of Governors, spoke fondly of his memories at St. Louis, the great rapport with his teachers and the friends he made, of which still play an important role in his life today. He spoke at length about how St. Louis had given him a direction to follow, which careful consideration being given to his subject choices. "Follow the guidance given to you by your teachers, you will find out later its value to your life" implored Mr Curran.
Written by: News Editor
Go Back